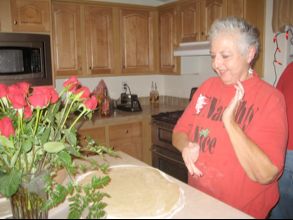 Sixty-Minute Rolls
Ingredients
4-5

cup

Flour

3

tbsp

Sugar

about ½ c. if making sweet rolls

1

tsp

Salt

4 1/2

tsp

Active Dry Yeast

or two packages

1

cup

Milk

1/2

cup

Water

1/4

cup

Butter Or Margarine

2

ea

Eggs
Instructions
Place 3 ½ c. flour, sugar, salt and undissolved yeast in bowl. Attach bowl and dough hook. Turn to Speed 2 and mix for 1 minute.

Combine milk, water and butter in saucepan. Heat over low heat (or in microwave) until liquids are very warm (120° to 130°); butter does not need to melt.

Turn to Speed 2, and gradually add liquid to flour mixture, take about 30 seconds, mix in eggs. Mix 1 minute longer. Continue to add remaining flour ½ cup at a time until dough clings to hook and leaves sides of bowl, about 5 minutes. Knead on speed 2 for 7 to 10 minutes longer or until dough is smooth and elastic. It should be sticky. Let rise in buttered, covered bowl, approx. 15 minutes. Shape as desired. Bake at 350°.
Notes
To make Christmas Tree rolls, make sweet dough. After rising, turn out on floured board and roll to approx. ¼ inch thick. Cut a triangle about the same size as your cookie sheet for the tree base. Spread with sour cream, sugar, and a little cinnamon. Cut doughnut shapes out of the rest of the dough, and arrange on top, fill in around the round shapes with scraps of the dough that is left. (don't reroll, this makes them tough). Place a maraschino cherry in the center of each round. May be made the night before, covered with plastic wrap and placed in refrigerator. Pull out of fridge and let stand on counter for 15 minutes or so, while heating oven to 350°. Bake 20 to 30 minutes. Frost with powderdered sugar, butter, and a little milk, add ½ tsp. almond flavoring. May sprinkle with colored sugar and chopped nuts.